We've been thinking about War Horses lately. And with Steven Spielberg's upcoming film aptly titled "War Horse," this will likely become a common topic of conversation.
Often when discussing horses throughout history, they are regarded similarly to tools such as guns or cannons- that is, they were expendable. But, when one delves beneath the surface, a proud tapestry of War Horses is revealed.
Take, for instance, Philadelphia's own Old Baldy- the steed of Philadelphia's greatest war hero General George G. Meade:
Meade's favorite horse was the unperturbable Baldy... Baldy was absolutely cool in combat and apparently indestructible… He saw action at the First and Second Battles of Bull Run, Antietam, Fredericksburg, Chancellorsville, Weldon Railroad and Gettysburg, where he took a shot in the ribs that missed Meade by an inch." via Philadelphia Oddities
Baldy lived 10 years than Meade, passing away on Christmas Day 1882. Baldy is on display at the Grand Army of the Republic Muesum and Library in Philadelphia. Check him out :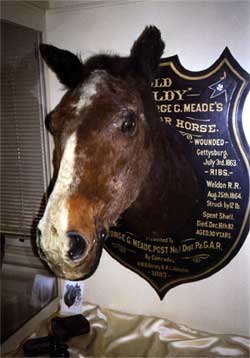 But perhaps the most recognizable War Horse would have to be Mr. Washington's Old Nelson.
Mr. John Hunter, an English visitor to Mt. Vernon in 1785, in a letter to a friend makes the following reference to the horses:
"When dinner was over, we visited the General's stables, saw his magnificent horses, among them "Old Nelson," now twenty-two years of age, that carried the General almost always during the war. "Blueskin," another fine old horse, next to him, had that honor. They had heard the roaring of many a cannon in their time. "Blueskin" was not the favorite on account of his not standing fire so well as venerable "Old Nelson." The General makes no manner of use of them now. He keeps them in a nice stable, where they feed away at their ease for their past services.'" via USHistory.org
Pretty amazing stuff, huh?